GOODBYE, FRESH KILLS!
Or
"How the City Can Stop Worrying and
Learn To Reduce, Reuse and Recycle"
City of New York, Office of the Manhattan Borough President
Ruth W. Messinger, Borough President
April 30, 1997
Executive Summary
DOS' Waste Management System in Manhattan
Preventing Waste
Composting
Renewing Recycling Exporting Waste Without Trashing the City Index
CONTENTS
ACKNOWLEDGEMENTS v

EXECUTIVE SUMMARY 1

DOS'S WASTE MANAGEMENT SYSTEM IN MANHATTAN 7

WASTE GENERATION: IS YOUR CAN HALF FULL...? 7

WASTE COMPOSITION: WHAT'S IN THE CAN? 9

DOS's MANHATTAN SOLID WASTE MANAGEMENT SYSTEM 12

Residential and institutional collection systems 12

Marine transfer stations (MTS) 13

Recycling processing facilities 14

Composting facilities 14

Waste disposal facilities 15

PREVENTING WASTE AND SAVING MONEY 16

WASTE PREVENTION GOAL 17

STEPS TO REACH WASTE PREVENTION GOALS 17

Increase resources for prevention of DOS-managed waste 17

Raise the profile of waste prevention and stimulate progress in the city 18

Public awareness and education for waste prevention 19

Reuse and repair programs 20

Business partnerships to foster residential waste prevention 21

City agency and institutional programs 22

Household hazardous products and waste collection 22

POLICY ISSUES FOR EXPANDING WASTE PREVENTION 23

Research needs for furthering waste prevention 23

Policy and legislative initiatives for advancing waste prevention 23

REVIEW OF THE FRESH KILLS TASK FORCE RECOMMENDATIONS 24

GETTING COMPOSTING OFF THE GROUND 25

COMPOSTING GOALS 25

GENERAL RESOURCE NEEDS 26

ON-SITE COMPOSTING 26

On-site yard waste composting at housing complexes 27

On-site yard waste composting in the parks 27

On-site institutional foodwaste composting 28

On-site residential foodwaste composting 29

COMMUNITY-BASED COMPOSTING 30

DOS COLLECTION AND CENTRALIZED COMPOSTING 31

COMPOST MARKET DEVELOPMENT 32

REVIEW OF THE FRESH KILLS TASK FORCE RECOMMENDATIONS 32

RENEWING RECYCLING 34

DOS'S RECYCLING PROGRAM RESULTS IN MANHATTAN 34

The waste stream targeted for recycling 34

Current Manhattan recycling diversion and capture rates 34

RECYCLING GOAL FOR MANHATTAN 36

Comply with the city's recycling law 37

Set higher goals for recycling diversion 37

INCREASING RECYCLING DIVERSION IN MANHATTAN 37

Alternate week collection 37

Recycling enforcement 39

Public education 43

Dump the free dump 44

New York City Housing Authority and City-owned housing 45

Schools 45

Public space recycling opportunities 46

Mixed-waste processing 46

Additional materials 46

Collection productivity 47

RECYCLING ECONOMIC DEVELOPMENT 47

REVIEW OF THE FRESH KILLS TASK FORCE RECOMMENDATIONS 49

EXPORTING WASTE WITHOUT TRASHING THE CITY 50

MANHATTAN'S EXISTING WASTE TRANSFER CAPACITY 50

DOS Marine Transfer Stations 50

Private sector transfer stations 51

New waste transfer capacity 51

MANHATTAN TRUCK ROUTES 52

RFEI RESPONSES 53

POLICY AND PLANNING RECOMMENDATIONS 54

Reaffirm the waste management hierarchy 54

Establish a city-wide planning process 54

Ensure that the city's waste disposal system is reliable and cost-effective over the long-term 55

Explore processing waste to recover materials prior to disposal 55

Maximize transportation that avoid impacts 56

Address the location and operation of waste management facilities 57

SECURING WASTE TRANSFER AND EXPORT SERVICES FOR MANHATTAN 57

REVIEW OF THE FRESH KILLS TASK FORCE'S RECOMMENDATIONS 59

Export of DOS-managed waste from the Bronx 59

Annualized phase-out plan for Fresh Kills 59

Borough-based plans 60

More specific strategy for closing Fresh Kills 60

Hiring a financial consultant 60

MANHATTAN BOROUGH BOARD ACTION 61

APPENDIX 64

NOTES 84

INDEX 89
LIST OF TABLES
TABLE 1: RESIDENTIAL WASTE COMPOSITION 10
TABLE 2: ANNUAL AVERAGE MANHATTAN RECYCLING DIVERSION AND CAPTURE RATES 35
TABLE 3: COMMUNITY BOARD RESPONSES ON ALTERNATE WEEK RECYCLING EFFECTS 38
TABLE 4: RECYCLING DIVERSION & SUMMONSES 40
TABLE 5: PRIVATE WASTE AND RECYCLING FACILITIES IN MANHATTAN 51
LIST OF FIGURES
MANHATTAN DOS-REFUSE TONNAGE 7
DOS-COLLECTED RECYCLABLES 8
MANHATTAN DOS-WASTE SOURCES 8
INSTITUTIONAL WASTE COMPOSITION 11
RECYCLING DIVERSION/SUMMONSES 41
FREQUENT RECYCLING VIOLATIONS 42
ACKNOWLEDGEMENTS
The Borough President and her staff are grateful to the following individuals and organizations for contributing their advice, expertise, time and hard work during the preparation of this report by serving on the Manhattan Solid Waste Working Group:
Philip Angell, Browning Ferris Industries, Inc.
Angelo Aponte, USA Waste of New York
Ivan Braun
Victoria Caramante, Community Board No. 7
Kendall Christiansen, City-wide Recycling Advisory Board
Marjorie Clarke, Manhattan Citizens' Solid Waste Advisory Board
Bradley Cohen, Manhattan Citizens' Solid Waste Advisory Board
Nevin Cohen
Cecil Corbin-Mark, West Harlem Environmental Action
John Culpepper, Community Board No. 12
Christine Datz, Lower East Side Ecology Center
Bill Eakins, Community Board No. 8
Will Flower, Waste Management of New York
Leonard Formato, Central Iron & Metal
Marian Fox, Community Board No. 3
Lyle Frank, Community Board No. 6
Ben-Ami Friedman, Friedman and Company
Jessica Greer, Community Board No. 4
Patricia Hetkin, District 7 Sanitation Council
Ronald Klempner, Bionomix Associates
Theodore Kovaleff, Community Board No. 9
Philippe Lajaunie, Community Board No. 5
Vincent Montalbano, Montalbano Initiatives
Thomas Outerbridge, City Green; Manhattan SWAB
Frank Ricci, Rent Stabilization Association
Mary Ann Rothman, Council of New York Cooperatives
Hector Santana, Community Board No. 7
David Saphire, INFORM
Peter Sarin, Browning Ferris Industries, Inc.
Brandon Stewart, Manhattan Citizens' Solid Waste Advisory Board
James T. B. Tripp, Environmental Defense Fund
Julia Willebrand, Manhattan Citizens' Solid Waste Advisory Board
Linda Wood, Community Board No. 10
Timothy Forker drafted this report and chaired the Manhattan Solid Waste Working Group.
The Borough President is also thankful for the many contributions of information and advice made by others not serving formally on the Working Group.
This report was developed in response to the Fresh Kills Task Force's recommendation that each Borough President formulate proposals for managing their borough's New York City Department of Sanitation (DOS) waste stream. In late December, 1996 the Mayor's Office of Operations requested that the Borough President prepare proposals by April 30, 1997 to address the Task Force's recommendation.
The success of the integrated waste management strategy detailed in this report depends on the city making the needed governmental commitments and providing sufficient financial resources. If these conditions are met, and the recommended waste prevention, recycling, composting and export strategies are implemented, Manhattan will meet more than its proportionate share of the city's waste management challenge. Most importantly, executing this strategy on a timely basis will ensure that the Fresh Kills landfill will no longer receive Manhattan waste -- a critical step in meeting (or beating) the mandated closure at the end of 2001.
The real challenge for the city as a whole -- a challenge that must be taken up by every home, business, agency, neighborhood, and borough -- is to select and develop a waste management system that avoids adverse environmental impacts, provides long-term stability, and captures the economic and environmental benefits inherent in waste prevention and recycling. This plan meets these tests by specifying ways to dramatically increase levels of waste reduction, recycling and composting, while also using the borough's existing marine transfer infrastructure to export the remaining DOS trash. Indeed, meeting the waste prevention, composting and recycling goals recommended in this report would enable the city to reduce Manhattan's DOS-waste stream by approximately 1,350 tons per day -- nearly 50%.
Implementation of this blueprint will provide real benefits across the city such as: stimulating reuse and recycling business enterprises, preventing approximately 750 DOS collection trucks per week -- or 250 trips per day -- from driving to transfer facilities outside of Manhattan, averting the construction of costly new city waste transfer facilities in the borough, and minimizing long-term waste disposal expenses. Preservation of the city's marine transfer system under this plan may also make it feasible for the these facilities to accommodate a limited portion of Manhattan's commercial waste, thus relieving pressure on transfer stations in other boroughs.
Unfortunately, the process of formulating the strategy presented in this report was severely hampered by the limited access allowed to information and expert agency personnel. Ironically, while the Administration was more than happy to charge the Borough Presidents with the responsibility of devising landfill closure plans, it frequently failed to provide needed information and analyses. Correspondence illustrating the difficult information gathering process are included in the Appendix.
For instance, many significant planning, policy and fiscal questions posed by the Borough President went unanswered, including:
·

What are the proposed borough working-group policy and planning objectives, and how are they related to a city-wide plan?

·

Is it the Administration's policy that each borough will process, transfer and ship recyclables and waste within its own borders to their final destinations?

·

What are the estimated costs of the Fresh Kills Task Force's recommendations and how does the city anticipate meeting these costs?

In addition, important information sought by the Borough President on fundamental pragmatic issues was not provided, including:
·

Engineering and economic analyses of using Manhattan marine transfer stations for waste processing and export.

·

Analyses through March, 1997 of alternate-week recycling collections in Manhattan.

·

All recycling program diversion and marketing reports for FY 1997.

·

Accounting of DOS's FY 1996 - 1997 expenditures on recycling and waste prevention promotion and development, by program.

·

Status reports on recycling and refuse collection productivity and an analysis of the conditions necessary for substitution of recycling for refuse collection in Manhattan.

·

Status reports on recycling and/or composting at facilities operated by the Board of Education, the New York City Housing Authority, the City University of New York, the Department of Parks and Recreation, the Department of General Services, and other institutional sites serviced by DOS.

Too often the Administration treated the development of alternatives to Fresh Kills like Fort Knox, thus undermining collaboration and analysis. All New Yorkers are poorly served by the veil of secrecy cloaking Fresh Kills closure plans. Moreover, under these circumstances, development of a comprehensive plan for managing Manhattan's DOS-waste was virtually impossible.

Despite these hindrances, preparation of this report commenced in early February after the assembly of a borough advisory group. Recommendations for Manhattan were developed in collaboration with the advisory group, composed of representatives of the Manhattan Community Boards, the Manhattan Citizens' Solid Waste Advisory Board, waste management and environmental professionals, real estate and other interested organizations, and involved individuals. The advisory group held four general meetings and a number of subcommittee meetings over a two month period. The Manhattan Borough Board considered the report and adopted a resolution in support of it at the Board's regular meeting on April 17, 1997.

The notion that, in terms of waste management, each borough is or can be an island unto itself is simplistic and ignores existing and developing recycling and waste disposal markets. After closure of the Fresh Kills landfill, no borough in the city can or will be able to manage its waste within its own borders: discarded wastes and recyclables will continue to move across county, city and state boundaries as items of commerce.

For Manhattan, where waste transfer and processing infrastructure consists of three, somewhat under-utilized, DOS marine transfer stations, the key imperatives are to:
· reduce the overall waste stream requiring management;
·

increase the supply of high quality recyclables;

·

become a source of high quality organic materials for composting;

·

create greater demand for waste prevention and recycled products and/or services; and

·

foster and integrate with waste export operations having the lowest environmental impacts.

By adhering to these goals and implementing the recommendations contained in this report, the Borough President is confident that DOS-managed waste now headed to the landfill can be reduced, recycled, composted or -- as a last resort -- disposed of at an appropriate facility outside of the city.

As indicated above, this report primarily recommends ways to reduce the waste managed by DOS in Manhattan in order to close the Fresh Kills landfill and capture the greatest economic and environmental benefits from alternatives to the Staten Island dump. In addition, the report makes waste export recommendations for the city to use in order to provide the best chance for the continuation of using the marine transfer stations (MTS) in Manhattan.

Specific and general recommendations are made in four major functional areas: waste prevention, composting, recycling, and waste exportation. Recommendations were developed with the intention of selecting those that would provide the greatest impact, while also being as comprehensive as possible.

In addition, the report provides recommendations for the execution of a productive planning process that will result in the best possible waste management system to close the Fresh Kills landfill on a cost-effective and timely basis. The recommendations made in this report can be summarized as follows:

THE PLANNING PROCESS

The notion that the city should plan its waste management system through a series of isolated borough plans invites fragmentation and inefficiencies. Fragmented borough-based planning leads to uncoordinated, redundant, or competing proposals. The Administration should remedy this by convening an inclusive citywide planning process subsequent to receiving the five borough reports.

The mandate to close the Fresh Kills landfill -- a facility used by the entire city -- demands a citywide planning process. Failure to establish such a process is a sign of weak leadership in developing sound waste management alternatives to the Fresh Kills landfill. Furthermore, in the absence of an inclusive, well-coordinated planning process, a delay in the closure of the landfill is possible.

WASTE PREVENTION

At present, the city has no estimates on the degree to which the waste stream has been reduced since the inception of DOS's waste prevention programs. Because existing DOS waste prevention programs have not focused on the residential waste stream, it is safe to assume that this important waste management tool has yet to make a significant dent.

The city must capture the economic and environmental benefits inherent in waste prevention by providing greater resources and priority to this functional area. The priority for waste prevention is to work toward a 9% waste prevention goal -- roughly 225 tons per day in Manhattan -- by addressing the residential waste stream and raising the public profile of waste prevention programs. Achieving this level of waste prevention in Manhattan alone could save approximately $13.5 million per year in DOS collection and disposal costs.

These savings more than cover the costs of operating the necessary waste reduction programs. If DOS's expense allocation in the city's budget dedicated $5 for every ton of waste disposed for residential waste prevention program expansion, the city would spend only approximately $4 million for waste reduction in Manhattan. Moreover, the city should form a Waste Prevention Council -- a public-private partnership group -- to lead and inform the city's efforts. Additionally, the city should expand the size and role of its existing business-oriented nonprofit, The Partnership for Waste Prevention.

DOS, the Waste Prevention Council, and the Partnership for Waste Prevention must restructure the city's programs to inform the public about the benefits and importance of avoiding waste, and to create more opportunities for prevention. Reuse and repair opportunities should be a priority for support and expansion. Cooperation with businesses to cut down on the residential waste stream is also a priority to be addressed. Public agencies and institutions must set an example by adopting policies and programs that reduce waste. Finally, certain policy and legislative action may be needed to curb the most unnecessary items -- such as junk mail and excess packaging -- that end up as waste.

COMPOSTING

Manhattan's waste stream is made up of approximately 15% food and yard waste combined. Yet the city's fledgling composting projects have yet to take a significant bite out of this portion of the Manhattan waste stream. Development of efficient, high quality composting options is necessary to divert this material from disposal.

Expansion of on-site yard waste composting opportunities is a priority, since it avoids disposal costs and those associated with collection as well. On-site yard waste composting opportunities must be maximized at parks, large housing complexes, institutions, and low-density residences. Community-based efforts are also needed to provide managed, voluntary drop-off opportunities for composting throughout the borough. Finally, to reap the majority of organic wastes, a centralized system will be necessary and DOS should pursue private sector development of 250 - 600 TPD of mixed-waste processing and composting capacity in the near term.

RECYCLING

The role of recycling in the city's waste management system will continue to grow, as more materials become marketable and recycling business opportunities expand over the long term. However, in recent years the city -- and its Mayor -- has more often joined the ranks of recycling's detractors, rather than its proponents. The result is a stagnated program that is in need of rejuvenation.

To make the most of Manhattan's recyclable waste stream -- and thereby reduce the local and economic impacts of exportation -- the city should comply with its recycling law and commit to achieving a 35% source-separation recycling rate in the near term. Boosting Manhattan's recycling rate from the current 16% level to 35% -- or roughly 875 TPD -- is achievable, if the current collection program is made more convenient and participation rates are increased.

To increase waste diversion to meet this goal, substantial public education efforts must be launched by using a variety of means and exploiting community-based opportunities. The DOS enforcement program -- often a source of frustration for property owners -- must be reorganized to encourage recycling and not merely fill city coffers. DOS enforcement currently fails to spur greater recycling rates and completely ignores city agency and institutional violators.

DOS must also support greater recycling compliance and diversion by improving its level of service through reinstatement of weekly collections. Finally, the city must do more than collect material. It must develop a recycling economic development strategy that supports the macro and local economics of recovering and utilizing secondary materials.

WASTE EXPORT

Since the closure of the Fresh Kills landfill was mandated, the city has moved in an ad hoc manner toward privatization of DOS's waste disposal operations. However, rather than simply issue bids for its waste disposal needs over a long period, the city must plan its waste management system comprehensively and then specify the type of services it requires over a long term from the private sector. The "request for proposal" (RFP) process should be used to evaluate and select the companies able to provide the desired services at the best price. Planning first and implementing second is the only way to ensure that the city causes development of a lasting waste management infrastructure.

To date, the city's process for determining waste disposal alternatives to the Fresh Kills landfill have been shortsighted. Export of waste using existing private transfer stations -- such as is underway in the Bronx -- is not the model that should be replicated for Manhattan, due to the significant service, environmental and infrastructure costs of increasing truck traffic to and from such facilities. In addition, the short term nature of such arrangements hides the long-term cost impacts of waste export services. Another approach is needed, especially in Manhattan, where conventional transfer station capacity is unlikely to be developed.

The city must pursue export options for Manhattan in the context of a coordinated waste planning effort that seeks to use the most efficient, reliable systems with the least air, noise and traffic consequences for nearby businesses and residents over the long term. Furthermore, the city needs to select export options that minimize disposal costs by integrating with waste prevention and recycling objectives and ensuring that facilities are scaled and located appropriately.

For Manhattan, these factors underscore the need to preserve the existing marine transfer station system to the greatest extent practicable. These facilities have adequate capacity to transfer waste -- or other materials -- to barges. The open questions include: can the MTSs be adapted to include waste processing or load ocean-going barges, to what extent can commercial waste be handled through the MTS system, and how best can barged waste be linked directly or via rail to final disposal facilities.

The city has yet to discover the answers to these critical questions. However, it is apparent that the city will only resolve these issues by offering long-term, barge-based export opportunities to the private sector. Therefore, a waste export RFP based on use of the Manhattan MTSs should be issued later this spring for evaluation during the summer. Once responses to this offering are analyzed, the city will be able to make an informed decision about waste transfer and export options for Manhattan.

DOS'S WASTE MANAGEMENT SYSTEM IN MANHATTAN

An understanding of the Department of Sanitation (DOS) managed waste stream in Manhattan is a prerequisite for discussing ways to advance waste reduction and recycling, and properly plan waste export operations. This chapter briefly summarizes the available information on Manhattan's DOS-managed waste stream and outlines the collection, transfer and disposal system presently employed by DOS.

WASTE GENERATION: IS YOUR CAN HALF FULL...?

Information on the actual amount of waste and recyclables managed by DOS in Manhattan was provided for FY 1996 in several forms. These data were often inconsistent. The average total quantity -- irrespective of source or collection method -- of solid waste managed by DOS on a daily basis from Manhattan for FY 1996 was given as 2,545 tons per day (TPD) and 2,622 TPD. A similar discrepancy exists in relation to the figures on the average amount of refuse directly collected by DOS trucks on a daily basis in FY 1996: both 1,792 TPD and 1,608 TPD were given.

Further clouding the waste generation picture are the different numbers provided on the average amount of recyclables collected in FY 1996: DOS reported both 325 TPD and 307 TPD were collected in Manhattan for recycling during that year. Although these differences are not large, the inconsistencies suggest that DOS continues to have trouble in accounting for all the material it manages. Such inexactness poses a problem for planning, budgeting, and waste diversion accounting purposes.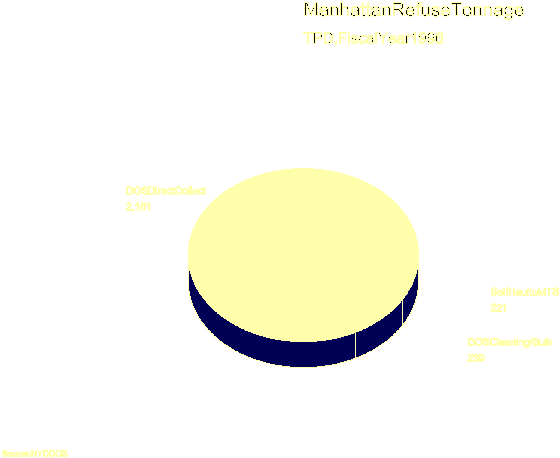 Figure 11 presents a snapshot of how much DOS-refuse is collected and disposed from Manhattan. Based on these totals, in FY 1996, DOS collected directly from residences and institutions a total of 652,742 tons of refuse, 82% of the Manhattan total. DOS's various cleaning and bulk operations handled another 72,178 tons of material, or 9% of the total. Additionally, a variety of agencies and institutions directly dumped 66,923 tons of materials -- 8% of the total -- at DOS MTSs in Manhattan.
The quantity of recyclables collected by DOS directly in Manhattan -- as well as the other boroughs -- in FY 1996 is shown in Figure 2Figure 22. A total of 101,458 tons of designated recyclables were collected in the borough from residential and institutional sources. This amount was approximately 22% of the citywide total for DOS-collected recyclables.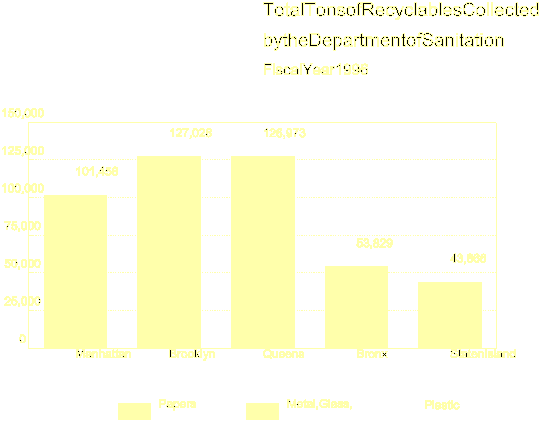 Because DOS collection trucks pick up residential and institutional refuse or recyclables together along a given route, DOS has not developed observed data on the respective amounts generated by each type of source. However, an estimate of the relative total quantities of discarded materials (refuse plus recyclables) generated by residences and institutions in Manhattan exists and is shown in Figure 3Figure 33.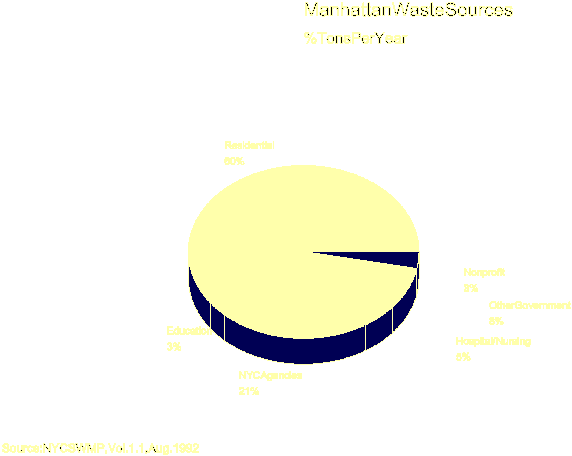 From this potential waste stream, an estimate of how much material is actually managed by DOS collection and/or disposal services is possible. For the residential fraction, DOS manages nearly 100% of the material, with the only exceptions being for construction debris or specially ordered private collection services (e.g., for clean outs).

For the institutional fraction, information gathered in 1993 by the Manhattan Borough President lists institutions receiving DOS recycling collection services in Manhattan. The institutional recycling list includes nearly 900 locations: 50 containerized sites and 846 curbside sites. The list classifies these sites into many organization types, including city agencies; public, parochial and private schools; libraries; social service organizations; religious institutions; and colleges. For example, sites on the list include schools, City Hall, Pace University, Fordham Law School, and Columbia University.

Another measure of the institutional impact on DOS's waste management system is the quantity of "free dump" privileges granted to agencies and institutions. In response to an audit conducted by the New York State Comptroller, DOS conducted a study to quantify free dumping at transfer and disposal facilities in order to develop allocations for each agency and institution. However, representatives of the agency believe the analysis to be out of date and declined to make it available for review.

Certain institutions are eligible to use DOS disposal facilities at no charge. These organizations are provided "free dump tickets" for the use of transfer stations, landfills, or other disposal facilities. DOS's Bureau of Waste Disposal's monthly "Loads and Tonnage Report" contains summary information on free dumping. According to the February 1995 report, approximately 1,200 tons per day of waste were disposed directly by agencies and institutions at DOS facilities, amounting to roughly 9% of all waste disposed.

This 9% rate is supported by disposal data presented in a recent Mayor's Management Report, as well. In Fiscal Year 1995, 3.17 million tons of waste were disposed of at city facilities, including 342 thousand tons (9% of the total) from nonresidential/noncommercial sources.

In summary, as currently managed, Manhattan's DOS-waste stream consists of approximately 2,160 TPD of refuse collected by DOS trucks, 220 TPD hauled directly by waste generators to DOS facilities, 240 TPD of cleaning and bulk debris, and 320 TPD of recyclables. Thus, there is approximately 2,500 TPD of refuse and recyclables collected by DOS curbside and containerized services.

WASTE COMPOSITION: WHAT'S IN THE CAN?

The DOS-managed waste stream in Manhattan consists of discarded materials from residences, agencies and institutions that are directly collected by DOS or delivered to DOS transfer facilities. Materials generated and collected by private waste management firms are not the subject of this report, since these materials are not dependent on city owned facilities for processing and/or disposal.

Table 1 summarizes the composition of the Manhattan residential waste stream and compares it to the city-wide composition data. These data show that on average Manhattan's residential waste stream is made up of similar proportions of discarded materials as the city as a whole.

TABLE 1: RESIDENTIAL WASTE COMPOSITION (% by weight).

Source: NYC DOS.
| | | |
| --- | --- | --- |
| MATERIAL | % MANHATTAN WASTE STREAM | % CITYWIDE WASTE STREAM |
| Corrugated Cardboard | 4.6% | 4.4% |
| Newspaper | 10.6% | 8.9% |
| Office Paper | 0.9% | 1.0% |
| Magazines | 3.0% | 2.7% |
| Books | 1.7% | 1.6% |
| Non-corrugated cardboard | 2.5% | 2.5% |
| Mixed papers | 10.6% | 10.3% |
| TOTAL PAPER | 33.9% | 31.3% |
| | | |
| High density polyethylene | 1.2% | 1.4% |
| Low density polyethylene | 0.1% | 0.2% |
| Film plastics | 5.4% | 4.3% |
| PET | 0.7% | 0.7% |
| Other plastics | 2.3% | 2.3% |
| TOTAL PLASTIC | 9.7% | 8.8% |
| | | |
| Grass/leaves/brush | 3.0% | 5.7% |
| Lumber | 1.8% | 2.0% |
| Food wastes | 11.7% | 11.7% |
| Rubber | 1.2% | 1.9% |
| Textiles | 4.7% | 4.5% |
| Diapers, fines and misc. | 13.2% | 12.8% |
| TOTAL ORGANIC | 35.6% | 38.5% |
| | | |
| Container glass | 4.5% | 4.6% |
| Misc. glass | 0.3% | 0.2% |
| TOTAL GLASS | 4.8% | 4.8% |
| | | |
| Aluminum cans/foil/misc. | 1.0% | 0.9% |
| Steel, bimetal containers | 2.0% | 1.9% |
| Other metals | 1.7% | 2.0% |
| TOTAL METALS | 4.7% | 4.8% |
| | | |
| INORGANICS | 2.1% | 2.0% |
| HAZARDOUS/CHEMICAL | 0.2% | 0.4% |
| BULK WASTES | 8.5% | 9.7% |
Like the rest of the city, Manhattan's residential discards are approximately one-third paper, one-third "organic", and also contain significant quantities of plastics, metals, and glass. Within the "organic" category are yard wastes, food wastes, textiles, and materials currently difficult to recycle, such as diapers and rubber. As with the city as a whole, Manhattan's residential waste contains a huge quantity of compostable food waste. However, in contrast to other boroughs, Manhattan's residential waste includes relatively little yard waste (i.e., grass clippings, leaves, brush, etc.).
City-wide estimates for the composition of selected institution types are summarized in Figure 4Figure 44. These data show that the composition of materials discarded by agencies and institutions served by DOS is significantly richer in high-grade office paper and mixed papers than residences, making waste paper over 50% of the average institution's trash.
Several types of institutions generate significantly greater fractions of polystyrene plastic (used in disposable food service items) than residences on average. For example, waste from schools, colleges, and hospitals contains three to four times the amount of polystyrene than residential waste. These types of facilities, as well as correctional facilities, have a tremendous concentration of food waste in their waste stream as well.
Due to the variation in waste composition among different types of institutions, optimal waste management approaches need to be tailored for a particular type of agency.
DOS's MANHATTAN SOLID WASTE MANAGEMENT SYSTEM
Residential and institutional collection systems
DOS collects refuse and recyclables in Manhattan in bags or cans packed into rear-loading trucks at the curbside, or from large metal containers that are mechanically emptied into larger trucks.
Curbside refuse and recycling collection routes are organized on a district basis. There are 12 Manhattan districts, which are coterminous with Community Districts. Manhattan curbside refuse is collected three times each week in all districts. In FY 1996 DOS collected approximately 83% of Manhattan refuse directly from the curb.
DOS currently runs 765 refuse truck shifts per week in Manhattan. In addition, there are currently 222 recycling truck shifts per week operated to collect Manhattan recyclables. Of the recycling truck shifts, approximately 139 are for papers and 87 for metal, glass, and plastic. Thus, approximately 991 collection truck shifts per week -- or roughly 165 per day -- operate in Manhattan. This does not include relay truck shifts or unexpected shifts.
During normal operations, all refuse trucks dump their loads at Manhattan marine transfer stations (MTS). Once the Visy paper mill on Staten Island is fully operational, all Manhattan paper recycling trucks will dump their loads at the 59th Street MTS. During normal operations, recycling trucks for metals, glass, and plastics dump their loads at DOS's contractors in Brooklyn, the Bronx, or New Jersey.
Except for the metal, glass, and plastic recycling collection trucks, all collection shifts currently use Manhattan MTS facilities. If the MTS infrastructure is not preserved and existing transfer facilities outside of Manhattan are utilized, approximately 1,500 truck trips per week will be made via East River, Harlem River or Hudson River crossings to locations outside of Manhattan.
Manhattan curbside recycling is collected once each week in Community Districts 1, 2, 4, 5, 6, 7, and 8; Manhattan curbside recycling is collected once every two weeks in Community Districts 3, 9, 10, 11, and 12. In FY 1996, DOS collected approximately 85% of Manhattan recycling directly through the curbside program.
Larger waste or recyclables generators are sometimes collected through DOS's mechanized service. Mechanized routes are organized on a borough-wide basis into two districts, east and west. Mechanized refuse is collected at least three time per week and recyclables are collected once per week. In FY 1996, approximately 17% and 15% of refuse and recyclables were directly collected by DOS's mechanized service, respectively.
Additional refuse collections are performed at public schools and New York City Housing Authority locations city-wide. Public schools receive approximately five additional collections per week and NYCHA sites receive two additional collections. These supplementary collections add approximately $5 million and $1.5 million to DOS's annual operating budget, respectively.
Marine transfer stations (MTS)
There are three active MTSs in Manhattan. These stations are where waste is dumped from collection trucks onto barges. Each MTS is permitted to handle up to 4,800 TPD, but none actually receive this amount at present. In addition, DOS occupies a site on the Gansevoort Peninsula (Pier 52) on the Hudson River where there is an inactive MTS.
Even though the three active MTSs now have unused permitted capacity, operational factors may reduce the capacity that is actually optimal. However, no information was provided for this report detailing the what the optimal capacity at each facility would be, when considering factors such as truck queuing, back-up capacity needs, and management of barge traffic.
Furthermore, the communities surrounding each MTS in Manhattan have experienced temporary and chronic operational problems such as DOS truck traffic on local streets, poorly managed truck queuing and idling, and odors from the facilities. Such problems suggest that the amount of MTS capacity that should be actually used is dependent on better management of facility operations.
The 59th Street MTS is located on Pier 99 at 59th Street and the Hudson River. The primary service areas of are Manhattan Community Districts 1 through 7. It also serves as a secondary MTS for Manhattan districts 8 and 9. On average, according to DOS, approximately 825 TPD are transferred to barges at this MTS. This amount is approximately 17% of its permitted capacity. Currently the facility operates one shift per day, six days a week.
Pursuant to the city's agreement with the owners of the new Visy paper mill on Staten Island, all the borough's paper is to be shipped directly to the mill via barge from the 59th St. MTS. This added volume represents approximately 100 truckloads per week, which now will be managed in Manhattan, rather than traveling to processors outside the borough. DOS reports that the paper recycling trucks will dump on the regular MTS shift.
The West 135th Street MTS is located on the Hudson River west of Marginal Street. It provides primary service for Manhattan districts 9 and 12, while also providing secondary service for Manhattan districts 10 and 11 and Bronx districts 5 through 8. On average, this MTS transfers 1,145 TPD, according to DOS. This amount is approximately 24% of its permitted capacity. Currently, the facility operates 24-hours per day, six days per week.
The East 91st Street MTS is located on the East River east of the FDR Drive. The facility provides primary service for Manhattan districts 8, 10, and 11. It also provides secondary service for Manhattan districts 1, 3 and 4 and Bronx districts 4, 5, 7, and 12. On average, this MTS transfers 575 TPD, or roughly 12% of its permitted capacity, and operates one shift per day, six days per week.
As mentioned above, there is a dormant MTS at the Gansevoort Peninsula site, which currently also houses an inactive incinerator, a district garage, and a salt storage facility. Formally, DOS has not suggested reactivating this MTS, but has proposed using the entire site to develop a new garage complex. In addition, DOS has stated repeatedly that it would like to reserve the site for the possible development of a new city waste transfer and containerization operation.
Both uses of this site are unacceptable to the neighboring communities (Community Board Districts 2 and 4) and the Borough President. As noted by the Borough President frequently, such uses are in direct conflict with plans for developing the Hudson River Park and the Borough President's recently adopted 197-a Manhattan Waterfront Plan. Furthermore, as indicated by the above accounting of existing capacity at the three active Manhattan MTSs, development of additional MTS capacity at Gansevoort is unnecessary to meet the borough's needs.
Recycling processing facilities
Currently, DOS does not operate any recycling processing facilities in Manhattan. Recyclable materials collected in Manhattan are trucked in collection vehicles to private processors located in Brooklyn, the Bronx, and New Jersey. Once the Visy paper mill becomes fully operational, as discussed above, all paper collected in Manhattan will be shipped directly via barge. Metal, glass, and plastic recyclables will continue to be trucked to private processors outside the borough. DOS reports that the personnel costs associated with relaying these Manhattan recycling loads is approximately $75,000 per year.
From 1988 until 1994, the city owned a processing facility on East 128th Street. At its closure, this facility handled approximately 45 TPD of the metal, glass and plastic collected in the curbside recycling program and employed about 20 people. The city chose to close the facility, citing a high residue rate and capital improvement costs. This site is still owned by the city and stands vacant.
Pursuant to the city's 1992 solid waste plan, in 1993 the Manhattan Borough President and DOS initiated research necessary for selecting a site for a new Manhattan materials recovery facility (MRF). At that time, the city's analysis indicated that publicly-owned MRF capacity would significantly reduce the city's processing costs as compared with contracting out MRF capacity with private firms. Although no sites were selected in Manhattan, preliminary criteria were discussed and included the need to develop a MRF consistent with other land use goals set for Manhattan and to design a MRF with a more vertical orientation. Subsequent to these investigations, DOS withdrew MRFs from the Statement of Needs and committed itself to contracting with private sector MRF operators for capacity.
Composting facilities
There are no centralized composting facilities in Manhattan, although the city's original long-term sludge management program included the development of a small sludge composting facility at the Ward's Island sewage plant site.
No composting facilities have been proposed by the city for Manhattan to date. Site requirements for a facility to handle Manhattan's organics fraction would, at a minimum, require approximately 10 to 25 acres of land in an industrial zone.
Waste disposal facilities
There are no active waste disposal facilities -- incinerators or landfills -- in Manhattan. There are three inactive municipal incinerators at existing DOS garage locations in the borough. All of these facilities are slated for demolition in order to utilize the space for DOS garage facilities.
PREVENTING WASTE AND SAVING MONEY
Since the late 1980s, waste prevention (also known as waste reduction) has been the top priority of the city, state and federal governments in numerous policy and planning documents. New York State adopted a waste management hierarchy that ranks waste prevention as the first priority and the State's "Solid Waste Management Act of 1988 (Chapter 70 of the laws of 1988) required that each municipality develop a long-term plan for managing waste in accordance with its waste management hierarchy.
In its 1992 solid waste management plan -- and in subsequent updates -- New York City projected that it would reduce its waste stream by approximately 9% before 2002. However, preventing waste has proved to be elusive -- especially in the residential sector -- and has received insufficient backing from the city in DOS's budget.
Waste prevention occurs when recycling or disposal of materials or products has been avoided from the beginning. Waste prevention involves the design, manufacture, purchase or use of materials and products to reduce the amount and/or toxicity of the discarded waste stream. Waste prevention actions can include using reusable shopping bags, mulching grass clippings on the lawn, donating used clothes to charities, using washable dishware or cutlery, and buying more durable or repairable products.
Although waste prevention programs have been stalled due to lack of adequate support in the city, its benefits nevertheless can be very real in terms of protecting the environment, avoiding waste production and bolstering the bottom line. Each time the creation and disposal of a wasteful product or package is avoided, environmental benefits are realized in terms of the avoided pollution from raw material extraction and refining, product manufacturing and transportation, and ultimately waste collection and disposal.
Furthermore, preventing waste enhances the bottom line in terms of reduced purchasing and waste management costs. Both can provide substantial benefits to DOS -- and individuals -- but have not been pursued with determination by the city to date.
An estimate of prevention's city-wide cost-savings potential was developed for New York City as a part of its 1992 waste management plan. It was estimated that, over a 20 year period, the city could prevent nearly 10 million tons of waste and save about $710 million on waste collection and disposal. This analysis indicated that the city could spend up to $71 per ton on waste prevention programs and still spend less on waste management than if it did not try to reduce waste.
More recent DOS cost data for residential waste shows that the city spends about $192 per ton on trash collection and disposal. Based on current DOS waste disposal rates in Manhattan, preventing 9% -- or roughly 225 TPD -- of the borough's DOS-managed waste stream could reduce DOS waste management costs by approximately $43,000 per day, or roughly $13.5 million in total. Once waste export is initiated, the savings from avoided waste management costs undoubtedly will rise significantly due to higher disposal costs. Savings due to waste prevention more than cover the costs of recommended programs.
Other benefits of waste prevention can include job creation, donation of valuable materials to nonprofit groups, and increased sales of less wasteful products. Avoided purchasing costs also can be significant, depending on the product and whether it is designed for durable or single use. For example, potential savings from reduced paper use in the production of printed informational materials can be 10 to 15 times greater than avoided waste costs. These savings would be realized through reduced paper and printing purchases and lessened postage or distribution costs. Consumers and organizations can realize significant savings by investing in more durable appliances or equipment, buying products in bulk sizes, and reusing products (e.g., clothing, dishware).
WASTE PREVENTION GOAL
The city should reaffirm its commitment to achieving substantial waste prevention levels and adopt a suitable goal to pursue.
Recommendations:
·

Reaffirm the city's 1992 commitment to a waste prevention goal of 9% -- 225 TPD in Manhattan -- before 2002, when the landfill is slated for closure. This provides five additional years to attain a 1992 goal originally meant to be achieved by this year.

·

Pursue greater rates of waste prevention in subsequent years and not precluded by the terms of other waste management programs.

STEPS TO REACH WASTE PREVENTION GOALS

Prevention of residential wastes in New York City faces numerous obstacles, including: inadequate recognition of the benefits of waste prevention, the absence of city waste prevention leadership, a lack of local regulatory authority over product and packaging design, low consumer awareness, lack of consumer purchasing options, lack of economic incentives to reduce waste, and difficulty in measuring the effect of waste reduction efforts. DOS's current waste prevention planning and program operation has not overcome these obstacles and its capacity to do so has been diminished by agency budget reductions and subordination of this function.

Increase resources for prevention of DOS-managed waste As discussed above, funding for waste prevention has not kept pace with this function's importance.

Recommendations:
·

Initially dedicate $5.00 per ton per all waste collected by DOS to waste prevention. Based on current disposal rates, this would result in a $17 million waste prevention budget -- $4 million for Manhattan -- which is approximately 3% of DOS's total current operating budget. As discussed above, based on cost-savings from waste prevention, this amount is likely to be significantly less than the amount saved due to reduced garbage.

Funds would be used for hiring needed DOS staff, developing and conducting public education campaigns, implementing pilot waste prevention projects, and conducting research and development of waste preventing products at local universities or other institutions.

·

Establish a Waste Prevention Fund, under the direction the city's Economic Development Corporation and DOS, to provide low-cost financing and development grants to qualifying waste prevention enterprises.

·

Prioritize the residential waste stream and utilize funds primarily for programs designed to prevent the DOS-managed waste stream.

·

Fill the vacant Assistant Commissioner position at DOS's Bureau of Waste Prevention, Reuse and Recycling.

Raise the profile of waste prevention and stimulate progress in the city

Waste prevention must become a visible waste management priority for New Yorkers and strong leadership is needed to place it on the public's "mental map." To do so, the city should take the following steps.

Recommendations:
·

Create the New York City Waste Prevention Council to coordinate and promote waste prevention policies and programs. The Council would include public officials and others selected by the Mayor, the City Council, the Public Advocate, and the Borough Presidents. The Council would consist of ex officio members from DOS, the city's Economic Development Corporation, the Department of Consumer Affairs, and appointees drawn from businesses, research and development institutions, nonprofits, educational organizations, and public interest groups.

The Council would support and coordinate city policies and programs to promote and develop residential waste prevention capacity in New York City. For example, the Council would assist in the development of criteria to be used for granting economic development benefits. The Council would also be involved in the design and implementation of DOS's public awareness campaigns, assist in the development of partnerships with businesses and product manufacturers, review agency procurement practices, and formulate economic development benefits for waste prevention enterprises.

An example of this type of organization is the Minnesota Office of Environmental Assistance's "Waste Education Coalition" that helps direct the state's development of waste prevention programs.

·

Establish an annual Mayor's Prize for Waste Prevention to be awarded each spring to individuals, schools, businesses, and organizations that have succeeded in furthering waste prevention.

·

Institute "Waste Prevention Week" to serve as an annual period of focus on waste prevention.

·

Offer city economic development benefits for businesses that institute qualifying waste prevention practices. For example, extend the city's industrial and commercial tax incentive program to businesses implementing product or packaging designs for waste prevention. In addition, offer abatement of the city's General Corporation tax for qualifying waste preventing enterprises, such as repair shops, diaper services, used clothing shops, and retailers selling in bulk.

·

Fund research and development of waste preventing products, packaging and services at city universities in cooperation with business organizations. Matching funds for selected research would be available from DOS's annual waste prevention allocation or the Waste Prevention Fund.

Public awareness and education for waste prevention

Existing DOS programs have not instilled broad public awareness and acceptance of waste prevention. Public education undertaken by DOS should work to foster acceptance and approval of the waste prevention concept to provide a solid basis for future programmatic actions.

Recommendations:
·

Coordinate waste prevention public information campaigns with recycling and other waste management education efforts. Capitalize on the synergy of these related programs, rather than present isolated messages to the public. For example, the recent mailing on the expanded residential recycling requirements highlight adding junk mail to the recycling program, but fail to tell residents how they can be removed from unwanted mailing lists. Such lost educational opportunities must be avoided in the future to make the most efficient use of resources.

·

Develop a waste prevention publicity and information campaign and coordinate campaign with recycling campaigns. The campaign should be designed to promote waste prevention based on its environmental and economic benefits. It should also inform about ways to prevent waste at home, recreation, work, and shopping. The following media are recommended to be used in a coordinated manner: periodic mailings, print, television, radio, billboards (e.g., subways) and on-line.

Examples of waste prevention information efforts include the California Integrated Waste Management Board's web site and multi-media resource center called the California Waste Prevention Info Exchange. Additionally, Westchester County mails a quarterly waste prevention and recycling newsletter that updates residents on the programs, schedules, and other information.

·

Implement the campaign in concentrated "blitz" periods. For example, both the King County "Waste Free Fridays" and "Bay Area Shop Smart, Save Resources and Prevent Waste" campaigns used media "blitzes" in conjunction with environmental shopping programs. These programs resulted in substantial increases in waste preventing product sales. Exit surveys in the Bay Area program showed the campaign reached over 1 million consumers.

·

Work with the Board of Education to develop and implement waste prevention curriculum modules for appropriate disciplines.

·

Provide assistance to other organizations to encourage further dissemination of campaign information.

·

In conjunction with the recycling public education program recommended below, establish two Manhattan waste prevention and recycling shops that will provide information and serve as "swap shops" for reusable household items (e.g., books, furniture, appliances).

·

Publicize a list of products that are the most and least wasteful for use by consumers.

Reuse and repair programs

Businesses and programs established to reuse and/or repair discarded items are arguably more established means for preventing residential waste in the city. Such programs provide employment and other economic benefits and should be aggressively assisted and promoted by the city.

Recommendations:
·

Incorporate information for reused/repaired products as a part of the waste prevention campaign. Include promotion of local reuse/repair businesses and organizations.

·

Implement the planned waste exchange hotline and incorporate into it consumer waste prevention options.

·

Publish a consumer repair guide that informs consumers what to look for in a durable product, how to make the most of warranties, and where to have products repaired that are no longer covered by warranty.

·

Offer economic development benefits designed to support the reuse/repair industry in the city. For example, target furniture, electronics, appliance, building materials reuse opportunities for tax incentives, grants, and low-interest financing. Develop partnerships with nonprofits, trade schools, and local economic development organizations.

·

Sponsor a school-based reuse/repair program in each school district and the high schools. Programs can be modelled on the successful "Recycle a Bicycle" program and seek partnership with businesses identified by DOS and EDC for the above economic development program.

·

Promote and assist with permits for community "flea markets" and other seasonal waste exchanges.

·

Expand funding for Materials for the Arts so that it can serve all types of nonprofit organizations, the schools, and other appropriate organizations.

·

Increase support for City Harvest to enhance their network of suppliers in Manhattan. For example, in San Francisco the City's Food Bank collects an average of 50 - 100 tons of unwanted edible food per month from the produce terminal market.

Business partnerships to foster residential waste prevention

The city should endeavor to encourage businesses to provide more waste prevention options for consumers and design products and packaging to waste less. Since the existing Partnership for Waste Prevention is a tax-exempt nonprofit corporation, private resources should be sought to meet program costs. Voluntary actions should be taken, including the following.

Recommendations:
·

Tie-in business-sponsored waste prevention with DOS's overall waste prevention education programs.

·

Expand the Board of Directors of the Partnership for Waste Prevention to include non-governmental members. Doing so would facilitate increased support and involvement by the private sector.

·

Develop consumer educational materials, such as the "10 ways to prevent waste" signs to be posted in a variety of stores.

·

Require initial and bi-annual certification for membership in the Partnership for Waste Prevention by DOS in consultation with the Waste Prevention Council. Certification standards should be developed based on business-specific factors. Certification would increase the value of Partnership membership by providing participants an objective basis to make marketable environmental claims.

·

Expand the Partnership by at least 50 organizations, half of which should be consumer product, package or service producers.

·

Integrate the Partnership and other groups (e.g., nonprofits, research institutions, schools) into the campaign for waste prevention. Business interests could provide financial support.

·

Cooperate with retailers and other businesses to identify and promote waste prevention choices for consumers. A model for this type of public campaign is King County's "Waste Free Fridays" campaign, which worked with businesses to promote less wasteful alternative products at a variety of merchants. For example, retailers could be encouraged to charge a fee for shopping bags to spur the use of reusable bags.

City agency and institutional programs

City agencies and many city-funded, tax-exempt institutions (e.g., schools and colleges) receive DOS waste services at no direct cost. These entities should be encouraged to reduce their waste generation as well.

Recommendations:
·

Provide technical assistance to schools, colleges, city agencies to instruct them in how to prevent waste and save money on avoided purchases. Build on programs currently offered by the Council on the Environment, city agencies, and others.

·

Fund school dishwashing pilots in FY 1998 to determine the economics of instituting system-wide conversion to reusable food service at schools. Compare costs and benefits -- inclusive of DOS waste management costs -- projected over five and ten year "payback" periods. Select schools to tie-in pilots with other waste reduction and recycling education efforts.

·

Impose fees for the collection and/or disposal of waste by city agencies and institutions receiving city funds by the end of FY 1998. The fee system can be accomplished either by pricing DOS services based on an agency's proportional use of the service or through privatization. Affected agencies should be permitted to share in waste disposal savings as an incentive for reducing per-employee waste generation below the current baseline.

·

Explore ways to reduce the waste of food in institutional settings, such as better portion planning and collection of edible discards for collection and use at soup kitchens. For example, fund City Harvest to conduct workshops instructing school food service staff and suppliers on how to reduce waste and collect edible portions for collection.

Household hazardous products and waste collection

By weight, household chemicals and other potentially hazardous products are relatively insignificant. A number products including certain paints, solvents, polishes, pesticides, and batteries can be explosive, toxic, caustic or flammable. The risks from these potentially dangerous items can be heightened when they are improperly disposed of in the trash or left within reach of children in the home.

Recommendations:
·

Continue public education campaigns designed to encourage alternatives to unnecessary household hazardous products.

·

Work with hardware and other retailers to provide consumer education on household hazardous products.

·

Help promote the Portable Rechargeable Battery Association's nickel-cadmium battery retail return/recycling program.

·

Target all household hazardous materials, not just the least dangerous -- "special waste" -- items.

·

Based on experience in Staten Island, provide household hazardous material drop-offs at DOS garage facilities in Manhattan or conduct a seasonal mobile drop-off program.

POLICY ISSUES FOR EXPANDING WASTE PREVENTION

While the above programmatic recommendations will further residential waste prevention, additional policy measures may be needed to fully realize waste prevention goals.

Research needs for furthering waste prevention

Significant gaps exist in the city's understanding of the waste stream and major waste prevention policies, thus inhibiting appropriate action. For example, planning waste prevention is hampered by insufficient information on the composition of packaging and products in the waste stream. Further, there is no accepted methodology for measuring the effects of discrete waste prevention efforts.

Recommendations:
·

In FY 1998, complete waste prevention composition and measurement studies now underway. Based on composition results, develop priorities for residential waste prevention and define a range of indicators that can be used to measure the effectiveness of waste prevention programs.

·

Incorporate measurement component into evaluations of city waste prevention programs.

·

Research and report on the expected governmental mechanisms, implementation issues, fiscal consequences, and waste stream impacts of a residential user fee system in New York City.

·

In cooperation with the Partnership for Waste Prevention members, develop model ways for the city to increase manufacturer responsibility of discarded packaging and products (e.g., electronics and appliance take-back programs or an advance disposal fee).

Policy and legislative initiatives for advancing waste prevention

While voluntary programs are preferable in most instances, policy and legislative mandates may be necessary to achieve waste prevention goals.

Recommendations:
·

Enact waste prevention procurement legislation (Intro. 509) for city agencies and covered institutions.

·

Issue Mayoral directive for creating city economic development benefits for reuse, repair, rental and other waste prevention industries.

·

Enact legislation requiring retailers and other businesses (e.g., dry cleaners) to post a sign listing 10 ways to prevent waste while shopping at the respective establishment.

·

Enact legislation requiring durable products sold in New York City to carry warranties for a minimum of three years.

·

Enact legislation requiring direct mailers doing business in the city to register with the Department of Consumer Affairs and provide recipients with the option to remove themselves from mailing lists, either using a toll-free number on each mailing or a postage-paid removal request form sent annually.

REVIEW OF THE FRESH KILLS TASK FORCE RECOMMENDATIONS

The Task Force's waste prevention recommendations are largely oriented toward policy and budget investigations. As indicated above, implemented directives and studies have the support of the Borough President so long as they are executed rigorously and gathered information is utilized appropriately.

GETTING COMPOSTING OFF THE GROUND

Composting is a managed biodegradation process designed to convert organic wastes into a stable, humus-like substance which can be used in a variety of horticultural and agricultural applications. When performed properly, composting converts organic wastes into useful soil products and destroys pathogenic organisms that may exist in organic refuse. Unfortunately, to date the city has developed little composting capacity for its municipal waste stream.

Composting organics from the residential and institutional waste streams in Manhattan would benefit the city by diverting significant quantities of waste from disposal operations and beneficially reusing discarded materials. As indicated in Table 1, the residential waste stream in Manhattan is composed on average of over one-third organic materials. Of this amount, approximately 12% and 3% are food and yard waste, respectively. Depending on the type of facility, institutional waste is comprised of even greater fractions of these compostable materials. For example, correctional facilities generate waste composed of over 50% foodwastes and refuse from primary and secondary schools is made up of 15% - 20% foodwastes.

Based on current waste disposal averages provided for this review, at least 400 TPD of food and yard wastes are discarded by Manhattan residences. Institutions generate an additional, undetermined, quantity to this stream. Based on the city's reported program costs, collecting and disposing of the residential food and yard wastes from Manhattan alone requires an average $23 million per year. Avoiding a portion of these costs is a primary benefit to be realized by expanding the city's composting efforts.

As with the city as a whole, the barriers to implementing composting programs in Manhattan include a lack of existing public awareness and knowledge, relatively high source separated collection costs, the absence of existing composting facility capacity, and the city's lack of experience with large-scale solid waste composting. Programs can be implemented on a Manhattan-specific basis to address the two former factors, however a city-wide strategy is necessary for addressing the two latter ones.

COMPOSTING GOALS

Approximately 15% of Manhattan's DOS-waste stream -- roughly 375 TPD -- is made up of food, yard and other compostable materials. To capture the benefits and overcome barriers to composting these residential and institutional materials in Manhattan, the city should adopt the following set of compost program principles and goals:
·

Implement programs to recover and compost 250 TPD -- two-thirds of the organics in Manhattan's DOS-waste stream.

·

Assure the highest quality compost possible is produced using the most efficient systems compatible with this aim.

·

Prioritize source-separation composting of foodwastes, yard wastes, and other discarded organics wherever practicable.

·

Develop decentralized composting capacity wherever practicable.

·

Thoroughly evaluate the technological, economic and environmental issues associated with centralized composting and develop the indicated type of capacity to process and compost large volumes of DOS-managed waste.

·

Produce compost products of a quality appropriate for use in community gardens, city parks and other public applications.

·

Support compost business development within the city.

·

Establish a city procurement policy that specifies compost products in appropriate applications, especially those made from city-generated organics. and

·

Educate the public about the importance of composting in the city's solid waste management system.

Utilizing the above as guidelines, the city will develop a composting program that maximizes the economic benefits of on-site composting as a waste prevention strategy, as well as fostering the development of a centralized composting infrastructure to deal with the majority of organic materials now landfilled by DOS.

GENERAL RESOURCE NEEDS

To realize the above, the city should commit to the following objectives and programs in Manhattan. Many of these recommendations can be implemented with continued funding of the existing compost program operated by the Botanical Gardens under an agreement with DOS. Where feasible, specific resource recommendations are discussed below.

In addition to the baseline funding for the Gardens, DOS must allocate funds specifically for Manhattan-based projects to successfully implement the recommended on-site and drop-off composting programs. Currently, the Gardens do not adequately serve Manhattan. In particular, DOS should dedicate $100,000 per year for all Manhattan-based home, on-site and drop-off composting programs, as a part of the Botanical Garden program.

The recommendation regarding development of a centralized composting facility may require a modest research budget. Full-scale facility development, if pursued, would be financed by the private sector on the basis of a long term contract with the city with a guaranteed waste stream and tipping fee.

ON-SITE COMPOSTING

On-site composting refers to composting activities undertaken at the point of waste generation. On-site composting systems do not require DOS-collection and thus avoid considerable associated collection costs. On-site systems range in size and complexity from apartment-scale worm bins and mounded leaves in a city park, to relatively sophisticated in-vessel technologies suitable for school or hospital cafeteria waste. The Borough President recommends the following on-site composting programs.

On-site yard waste composting at housing complexes

Housing complexes in Manhattan that maintain lawns, trees and shrubs should compost the associated yard waste on-site. Depending on the extent and type of grounds, such housing complexes can mulch grass on the lawn and compost leaves in piles.

According to its waste management director, all Manhattan NYCHA sites currently leave grass on the lawn and many actively compost their leaves on-site. Existing NYCHA sites compost approximately 600 cubic yards per year of leaves. Grass mulching and composting at all Manhattan complexes would divert at least 1,000 cubic yards per year. DOS should continue to provide technical assistance to NYCHA as needed and extend such assistance to all private housing developments, such as Stuyvesant Town, Penn South, Peter Cooper Village, Morningside Gardens, Esplanade Gardens, and Battery Park City. In addition, DOS should work with the affected parties to develop regulations prohibiting the routine collection of grass, leaf, and yard wastes from housing with the capacity for on-site composting.

Recommendations:
·

Continue on-site yard waste assistance to NYCHA and extend assistance to other housing complexes by the beginning of FY 1998.

·

Develop regulations prohibiting the routine collection of grass, leaf, and yard wastes from housing with the capacity for on-site composting by the end of FY 1998.

Resources for these recommendations includes currently provided technical assistance to Manhattan NYCHA developments through the New York Botanical Garden. DOS should continue funding these services to extend the program to privately owned housing in Manhattan.

On-site yard waste composting in the parks

Many parks currently compost yard wastes generated at the park. However, even though DOS prohibits the Department of Parks and Recreation (DPR) from dumping yard wastes at the MTSs, the rule is not consistently enforced and DPR yard waste is often disposed of at the landfill. Since DPR already collects yard waste, has ample land on a borough-wide basis for composting the material on-site, and can utilize the product to enhance and maintain parkland, no DPR yard waste should be disposed of at DOS facilities.

DOS should enforce rules prohibiting DPR from disposing of yard waste at the MTSs. In addition, DOS and DPR should work together to establish the appropriate number and distribution of yard waste composting sites throughout the borough to meet this end.

Recommendations:
·

Compost all organic debris from Manhattan parks in park locations by the end of FY 1998.

·

Adopt regulations banning DPR yard waste from DOS disposal facilities in FY 1998.

·

Where capacity exists and appropriate access can be maintained, allow DPR composting facilities to be used by neighboring residents interested in composting their leaves and yard trimmings.

Resources needed for these recommendations include existing DPR and DOS assets. DPR is now responsible for collecting and transporting yard waste within the parks and has developed a number of sites for yard waste management within the parks. DOS, which may use park locations to compost residential leaves this Fall, should provide technical assistance.

On-site institutional foodwaste composting

Many schools, hospitals, universities and other institutions potentially have the space and the interest to compost food waste on-site. However, further improvements in available technologies are needed before such systems can be contemplated on a widespread basis. In addition, the current relative cost of such systems is high, particularly when compared with free DOS trash collection. Nevertheless, as technologies are refined and become cost competitive, the opportunities for economical on-site food waste composting have the potential to expand. The economic benefits of such systems will be more apparent if institutional waste generators are directly responsible for the costs of trash collection and disposal.

In addition, on-site systems, particularly at schools, have tremendous educational value. For example, the garden and compost greenhouse at Junior High School 60 are used in conjunction with school curricula by more than 120 students per week and by hundreds of other students from schools in the Bronx, Brooklyn and Manhattan. Similar composting, gardening and classroom activities are underway at the Cathedral School, City-As-School and the Frederick Douglas Academy. DOS should work to expand and support the development of additional on-site foodwaste composting capacity at a variety of institutions served by DOS.

Potential waste diversion from institutional on-site systems could become significant. For every three to four institutional locations, on-site composting could divert approximately one TPD from DOS collection and disposal operations. The development of economical and effective on-site composting technologies could ultimately lead to installation of 50 to 100 TPD capacity amongst Manhattan institutions and businesses.

Additionally, each school's composting program can introduce hundreds of students to composting as a recycling method for organic waste, and provide the opportunity to incorporate hands-on environmental education for science teachers at all levels.

Recommendations:
·

Establish on-site food waste composting systems at four institutional locations in Manhattan to demonstrating available technologies at a range of sizes by the end of FY 1998.

·

Expand the existing school composting/garden model by installing systems for two Manhattan high schools by the end of FY 1998, and for two primary schools and one intermediate school per district by the end of FY 1999. DOS should collaborate with the Board of Education and each Community School District to identify schools for school-based garden/compost systems.

Resources for these recommendations include the existing on-site composting services provided by the Botanical Gardens, the New York State Office of Recycling Market Development "Recycling Investment Program" and the federally-sponsored Urban Resources Partnership. As discussed above, the Botanical Gardens program requires a Manhattan-specific budget. Certain private organizations, such as the Morningside Area Alliance and the Trust for Public Land, have also provided support for on-site programs.

On-site residential foodwaste composting

Existing DOS plans and programs will focus its home composting efforts in FY 1998 on low-density neighborhoods outside of Manhattan. Nevertheless, Manhattan should not be unserved by on-site residential foodwaste programs. Neighborhoods all over the borough have lower-density housing stock that may be able to accommodate backyard composters, if made available. Additionally, vermi-composting (worm bins) is an option worth promoting for apartment dwellers.

Manhattan has over 4,400 one, two and three-family homes and over 10,000 smaller (10 or less units) apartment buildings. For many of these dwellings, one or more families will have access to a yard space, where a compost bin could be set up. Backyard composting typically handles only yard wastes and uncooked vegetable or fruit food scraps.

NYCHA and other housing complexes with grounds should be encouraged to pilot food composting, as well. In addition, some apartment buildings in the city are beginning to experiment with on-site units, where residents bring their food scraps to a central location.

Recommendations:
·

Target lower density housing in Manhattan for backyard composting, making the necessary equipment available for a low fee (e.g., $15) or at-cost during FY 1998 and FY 1999.

·

Promote and educate citizens about vermi-composting.

·

Based on experience with on-site technologies installed at institutions/businesses as described above, install a demonstration on-site system at one Manhattan apartment building by the end of FY 1998.

·

Establish a food waste composting site as a pilot at one NYCHA development, in cooperation with community and NYCHA gardening groups.

Resources needed to implement these recommendations include DOS's existing Botanical Gardens-operated programs. As discussed above, these programs need to be augmented in order to serve Manhattan. DOS should ensure that adequate funding is available for coverage of Manhattan, and should work with the State to access funds for capital equipment.

COMMUNITY-BASED COMPOSTING

Community-based composting systems offer an opportunity to increase public knowledge about the importance of composting and also develop an economic activity that produces compost for sale to local gardens, homes, and parks. Existing community-based composting operations collect mostly the same food scraps appropriate for a backyard composting system.

One advantage of community-based systems is that DOS would not be responsible for collection, thus reducing collection and program costs. In a community-based composting system, source-separated organics would be dropped-off by participants at a managed community collection site for quality control and then composted at a small centralized, community-based facility.

Outstanding Renewal Enterprises, Inc. (ORE) is a good example of an existing, community-based food waste drop-off and composting program in Manhattan. ORE's program collects foodwastes from individuals at several locations, including the Union Square Greenmarket and ORE's community recycling center in the East Village. ORE soon expects to be composting one ton per day at its site in East River Park.

Based on ORE's experience, development of drop-off composting outlets for 15,000 - 30,000 Manhattan residents would capture approximately 1,500 - 3,000 tons per year of foodwastes for composting.

Recommendations:
·

Support ORE's existing community-based composting program by facilitating site improvements.

·

Establish managed foodwaste drop-offs in each Community District and ensure sufficient composting capacity to process materials. Such a network in Manhattan could potentially divert five to 10 TPD of food waste through by the end of FY 1999.

Resources needed to implement this recommendation include collaboration between DOS and DPR, and community gardens, schools, housing complexes and local environmental organizations. To prevent nuisances from composting food scraps, DOS should ensure that technical assistance and funding for appropriate equipment is available.

DOS COLLECTION AND CENTRALIZED COMPOSTING

For the foreseeable future, there will be a large percentage of Manhattan residences and institutions served by DOS for whom on-site composting or a food waste drop-off system is not a practical option. Without an alternative composting system, organics from these generators will continue to go to waste at considerable city expense.

In order to compost organics from these generators, materials will have to be collected and taken to centralized facilities for processing. However, at present the city has not specified the type or size of facility it would require for this task.

One obvious barrier to centralized composting is the incremental cost of separate collection. The city's experience with collecting source separated organics in the Park Slope Intensive Recycling Zone showed that such a system could result in a high quality compost product, but was hampered by immense collection costs. This program captured an estimated 50% of the available foodwastes, diverting an additional 6% of the residential waste stream. However, the cost/benefit imbalance of this pilot did not auger well for the wider implementation of a DOS source separated organics system.

To optimize collection economics and diversion rates, DOS should explore obtaining centralized compost capacity for organics that are not separated at the source, but left mixed with other nonrecycled refuse. Such municipal waste composting could be conceptualized as integral to a mixed-waste processing facility, as well.

To initiate the development of composting capacity, until 1996 the DOS had included the establishment of two in-vessel composting facilities in the Statement of Needs. Since then, the city has dropped this item from its planning agenda. Alternatively, in response to the city's August 1, 1996 "Request for Expressions of Interest," five respondents proposed large municipal waste processing/composting facilities. Based on this information and the city's evaluation of the responses, there appears to be valid commercial interest in providing this service for the city.

The city needs to conclude its exploration of composting technologies and move toward capacity development, either by the city alone, the city in partnership with a private firm, or through a long term contract with a private vendor. Assuming technological, logistical, economical and environmental issues can be successfully addressed, diversion of 250 to 600 TPD by 2001 could be achieved.

Recommendations:
·

On a city-wide basis by mid-FY 1998, thoroughly evaluate the collection, processing, economic and environmental issues associated with centralized composting and plan the development of the indicated type of capacity needed to process and compost large volumes of DOS-managed waste.

·

Modify the city's Fresh Kills Task Force recommendation of studying mixed-waste processing to include testing the recovery, composting and marketing of organics in conjunction with the above research in FY 1998.

·

If indicated by the results of the above investigations, issue an RFP for a long-term contract for capacity to process and compost between 250 and 600 TPD of mixed DOS waste.

Resources required to executive these recommendations initially entail research provided by agencies including DOS, EDC, NYS ORMD, and City Planning. There was not sufficient information provided to determine the relative and total costs of the resulting proposal.

COMPOST MARKET DEVELOPMENT

As with any new commodity or product -- especially one derived from the municipal waste stream -- a concerted effort at developing markets should be undertaken. In the case of the city's organics, the city faces two issues: composting capacity development and encouraging local end uses.

Recommendations:
·

Develop capacity through a diverse set of means, including on-site systems and centralized processing of organics-bearing solid waste.

·

Adopt the long term goal of ensuring high quality compost products from the city's waste stream to achieve the greatest marketing flexibility.

·

Utilize compost products in city capital projects where appropriate, including landfill closure, highway landscaping, parks landscaping and horticulture, and brownfield remediation.

·

Assist composting businesses in the city in order to gain the employment and secondary economic benefits that a compost processing and marketing industry could provide. For example, one study estimated that over 200 jobs could be created by composting all of the city's organics.

·

Develop procurement specifications for soil products purchased by the city that prefer compost from discarded materials -- especially those discarded by New York City. These specifications should apply to city agencies and their contractors.

REVIEW OF THE FRESH KILLS TASK FORCE RECOMMENDATIONS

The Fresh Kills Task Force made only two recommendations related to improving the city's composting ability.

As discussed above, the city should modify the Fresh Kills Task Force recommendation of studying mixed-waste processing to include the recovery and composting of organics in conjunction with the above research in FY 1998.

As indicated by the above discussion of on-site and community-based composting programs, the Task Force's recommendation that the city take another year to study such composting efforts should be replaced with an implementation plan based on the borough recommendations.

Recycling is the process of recovering discarded materials and reutilizing them in new products. Recycling involves recovery of separated materials, their reutilization in the production of new products, and the purchase of goods with recycled content.

Recycling has many economic and environmental benefits. By capturing materials that might otherwise be disposed of as trash, recycling minimizes waste and lowers trash disposal costs. Through returning used materials to commerce, recycling aids in avoiding the costs and environmental impacts of raw material extraction and processing. Since recycling adds economic value to scrapped goods, it can serve as a basis for developing new businesses.

DOS'S RECYCLING PROGRAM RESULTS IN MANHATTAN

The waste stream targeted for recycling

DOS's recycling program became uniform in Manhattan in September of 1992, when curbside collection of designated metals, glass, plastics, newspapers, magazines, and corrugated cardboard was initiated. Collection of this range of materials targeted, on average, approximately 28% of the residential waste stream in Manhattan for recycling.

New residential recycling requirements in Manhattan taking effect presently add virtually all clean paper types (e.g., junk mail, paper bags, smooth cardboard packaging), paper beverage cartons and aseptic packages, and numerous bulky and small household metal items to the list of targeted recyclable materials. These additions raises the fraction of targeted materials in the Manhattan residential waste stream to nearly 50%.

Recycling at institutional locations, governed by different rules, has not only targeted the residential range of materials, but also included office or mixed papers, depending on institution type. Based on facility type, institutional recycling requirements targeted at least 50% of all discarded materials.

Current Manhattan recycling diversion and capture rates

Based on information provided by DOS, the Manhattan recycling diversion and capture rates since FY 1993 are summarized in Table 2. Diversion and capture rates are measures of the impact of recycling on the waste stream and a gauge of recycling participation.

TABLE 2: ANNUAL AVERAGE MANHATTAN RECYCLING DIVERSION AND CAPTURE RATES (FY 1993 - FY 1997*) Sources: NYC Dept. of Sanitation, NYC Dept. of City Planning.
DIVERSION RATE (%)

DISTRICT
1993
1994
1995
1996
1997
5-Year Avg.
1
19.5
23.1
22.3
20.9
21.0
21.4
2
20.1
23.7
22.9
21.5
22.1
22.1
3
9.9
13.2
12.7
12.4
12.0
12.0
4
17.1
20.6
19.6
18.5
19.2
19.0
5
19.3
24.0
22.3
21.6
22.3
21.9
6
20.4
25.8
24.3
22.3
24.5
23.5
7
20.9
23.5
22.9
21.7
22.2
22.2
8
22.1
25.8
24.1
21.8
23.9
23.5
9
8.1
11.0
10.6
10.5
10.0
10.0
10
4.2
5.5
5.4
5.5
5.1
5.1
11
6.1
7.6
7.5
7.4
7.1
7.1
12
6.0
8.4
7.8
7.8
7.2
7.4
Borough-wide Avg.
14.5
17.7
16.9
16.0
16.4
16.3
City-wide Avg.
7.6
13.8
13.7
13.8
13.8
12.5

CAPTURE RATE (%)

DISTRICT
1993
1994
1995
1996
1997
5-Year Avg.
1
60.0
70.4
68.2
63.6
60.9
64.6
2
61.2
71.7
69.2
64.8
63.4
66.1
3
34.7
42.3
40.5
39.7
38.6
39.2
4
50.3
56.9
53.5
50.5
52.1
52.7
5
61.3
72.0
67.3
64.9
60.7
65.2
6
64.7
77.4
73.0
66.7
67.7
69.9
7
60.3
67.5
65.2
61.4
60.5
63.0
8
68.7
75.9
70.7
63.9
66.6
69.2
9
29.3
36.2
34.8
34.6
33.8
33.7
10
14.0
18.4
18.2
18.5
17.1
17.2
11
20.9
26.3
26.0
25.6
24.7
24.7
12
22.1
28.5
26.5
26.3
24.5
25.6
Borough-wide Avg.
45.6
53.6
51.1
48.4
47.6
49.3
City-wide Avg.
25.1
45.2
44.9
42.6
38.2
39.2
Diversion rates represent the fraction of the total waste stream actually set out and collected for recycling. DOS also estimates "capture rates", which refers to the fraction of designated recyclables thought to be available in the waste stream that are actually collected. DOS's capture rates are estimated based on waste composition information discussed earlier. Capture rates are helpful in estimating the amount of a given material category still available in the waste stream for recycling.
As shown in Table 2, in Manhattan DOS's residential and institutional recycling requirements have diverted approximately 16% of the waste stream and achieved a capture rate of approximately 50%. Peak years in Manhattan were experienced in FY 1994 and FY 1995, after the September 1992 program expansion had taken root. Since FY 1995 diversion and capture rates have slackened slightly, by nearly 5% and 7%, respectively. This pattern is consistent across all Manhattan districts.
Although Manhattan averages approximately 16% and 50% diversion and capture, respectively, half of the borough's districts have demonstrated much higher rates. Capture rates of about 70% and diversion levels nearing 25% have been dependably attained in Community Districts 1, 2, 5, 6, 7, and 8. Districts 3, 4, and 9 match or are near the city-wide averages. Districts 10, 11, and 12 -- which contain a large portion of city-owned housing -- have experienced the lowest rates in the borough.
Average Manhattan diversion and capture rates have consistently exceeded the city-wide averages. Since FY 1993, average DOS diversion and capture rates in Manhattan have been approximately 20% greater than the citywide averages.
One often overlooked aspect of determining recycling diversion is accounting for unrecyclable materials that end up as processing residues. On average, the city's recycling program collects approximately 180 TPD of material discarded as residue by processors. This is roughly 13% of the total amount collected by recycling trucks and, if added back to the city's disposal stream, reduces the average diversion rate by approximately 2%.
RECYCLING GOAL FOR MANHATTAN
As discussed above, with the long-awaited addition of new materials to the recycling program in Manhattan, approximately 50% of the residential waste stream is now available for recycling. Assuming a conservative result -- with Manhattan's capture rate remaining constant at 16% -- the borough will easily recycle 25% of the residential/institutional waste stream. However, in Community Districts that have routinely averaged capture rates of 70% or higher, 35% diversion rates can be expected.
It is incumbent upon the city to attain higher recycling rates. Among the benefits to the city of attaining higher rates are improving DOS collection system economics, expanding the supply of recyclables for economic use locally or elsewhere, minimizing waste export and disposal costs, and augmenting the city's capacity to manage its waste in an environmentally beneficial manner.
Comply with the city's recycling law
The urgency of landfill closure should be used by the city as an opportunity to redouble its efforts on waste prevention, composting and recycling. Compliance with the city's recycling law would be an initial step in this direction.
Recommendation:
·

Settle outstanding issues with the plaintiffs in the Local Law 19 lawsuit and, in the context of an expanded recycling program, comply with the recycling law's tonnage mandates.

Set higher goals for recycling diversion

As discussed, greater diversion levels are achievable with an improved, expanded program in Manhattan.

Recommendations:
·

Adopt a goal of 35% -- roughly 875 TPD -- source separation diversion through DOS's curbside and containerized services for FY 1998 in Manhattan.

·

Commit definitely to expansion of the mixed paper, household metal program city-wide before the end of 1997 to increase overall diversion and create program consistency for better promotion and building management.

INCREASING RECYCLING DIVERSION IN MANHATTAN

Manhattan's overall residential recycling diversion rate has the potential to be boosted within the context of current source-separation recycling requirements, especially in a number of lower-performing districts.

As discussed above, even under a "do nothing" scenario, the addition of mixed paper and the other new materials will bring the borough's overall recycling rate to 25%. But, as the experience in half the borough shows, much greater diversion rates are achievable.

Methods for increasing collections of designated materials should center on improving participation (capture rates) in the source separation program. Additionally, the city should follow through with its planned exploration of recovering recyclables mixed with refuse. Finally, the city needs to assess recycling additional materials, such as textiles and plastics.

Following are recommendations for increasing the recycling diversion from DOS programs in Manhattan.

Alternate week collection

Alternate week collection of recyclables imposes confusing inconsistencies in the borough's program, disrupts operations for building managers, diminishes resident participation, amplifies building storage problems, and saves the city relatively little money. More importantly for Manhattan, alternate week collections amplify the above problems in multi-family buildings, as the otherwise welcome addition of mixed papers, household metals, and beverage cartons to the recycling program takes effect.

Preliminary results of alternate week collections in Manhattan support the above expectation. An early DOS study revealed an average 4% overall drop in waste diversion in affected districts. These results are supported by nation-wide experience with alternate week collections of recyclables.

In the fall of 1997, the Manhattan Borough President's Office conducted a survey of the 32 Community Boards affected by the new alternate week schedule and obtained the results summarized in Table 3, below. Responses to this survey indicate that alternate week pick-up of recyclables negatively impacts the recycling program by creating storage problems, confusion about collection schedules, and general disapproving perceptions of the city's recycling efforts.

TABLE 3: COMMUNITY BOARD RESPONSES ON ALTERNATE WEEK RECYCLING EFFECTS
| | |
| --- | --- |
| ISSUE/QUESTION | BOARDS RESPONDING "YES" |
| Received complaints | 19 |
| Lack of storage space | 12 |
| Irregular recycling policy | 8 |
| Increased vermin | 4 |
| Street litter/illegal dumping | 2 |
| Increase in odors | 1 |
| Inequitable service allocation | 1 |
| Participation Decrease | 8 |
| Participation Increase | 0 |
| Participation Same | 4 |
| Participation Change Unknown | 15 |
32 Community Boards surveyed, 27 responded.
In addition, the preliminary results of an independent assessment in Manhattan Community District 9 shows that roughly the same amount of recyclables set out for weekly collection is now set out for bi-weekly pick up. This result indicates that there is actually a 50% reduction in participation due to alternate week pick ups.
It is well understood that, from the DOS collection standpoint, alternate week collection increases productivity slightly. However, this fact is only compelling when seen from the collection truck's point of view. From a customer service point of view, it is simply untenable to ask residents to recycle half of their trash, but only pick it up bi-weekly.
DOS should realize that -- especially in communities experiencing lower diversion rates -- storage space is at a premium, with much basement space now being used as housing. Storage and other logistical barriers created by infrequent collection ensure that no meaningful growth in recycling diversion will occur in neighborhoods receiving alternate week pick ups.
Recommendation:
·

Restore weekly recycling collections to increase program consistency, ease storage problems, and lift public confidence in the program. These factors will enhance diversion and help DOS meet its recycling goals.

Recycling enforcement

In contrast to DOS's view on public education and outreach, a great deal of emphasis has been placed on recycling enforcement as a motivator of participation. However, no direct relationship between current enforcement practices in Manhattan and recycling diversion rates were found in this review.

The city must reexamine the recycling enforcement program to ensure that it is designed to encourage participation and not merely to fill city coffers. While a baseline level of enforcement is needed, a new approach for issuing violations needs to be developed. Focusing on repeat violators, noncomplying city institutions and agencies, and tracing recyclables in the garbage is recommended.

The number and type of recycling violations issued in FY 1996 in Manhattan district were provided for review. The total number of Manhattan violations and their distribution by Community District are summarized in Table 4. Perusal of the data in Table 4 indicates that there is a wide range in the number of recycling violations written in Manhattan districts, and suggests that the number of violations do not clearly correspond to population densities or recycling rates.

TABLE 4: RECYCLING DIVERSION & SUMMONSES
DISTRICT
AVG. RECYCLING DIVERSION RATE (%)
SUMMONSES
HOUSEHOLDS
SUMMONSES PER HOUSEHOLD
1
20.9
221
11,993
0.02
2
21.5
765
52,019
0.01
3
12.4
719
65,065
0.01
4
18.5
1,047
49,140
0.02
5
21.6
480
24,383
0.02
6
22.3
597
82,711
0.01
7
21.7
1,497
115,417
0.01
8
21.8
1,430
121,652
0.01
9
10.5
879
40,209
0.02
10
5.5
1,456
41,444
0.04
11
7.4
607
40,162
0.02
12
7.8
1,277
69,741
0.02
Boroughwide
16.0
10,975
713,936
0.02
City-wide
13.8
67,622
2,816,274
0.02
Source: NYC Dept. of Sanitation, NYC Dept. of City Planning.
Further analysis was conducted to compare district recycling diversion rates, population densities, and enforcement levels. Simple linear regression analysis of these data showed no significant relationship between recycling diversion rates and the amount of enforcement activity, as illustrated in Figure 5. Regression analysis also did not reveal a significant relationship between number of violations-per-household and recycling rates. These results suggests that the level of current DOS recycling enforcement activity is not a meaningful predictor of recycling diversion rates in Manhattan.
[page insert Figure 55]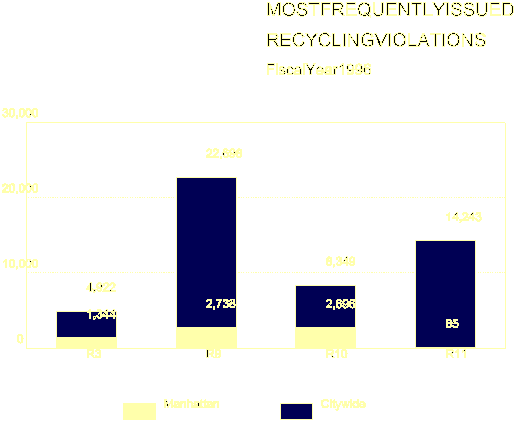 The type of recycling violations issued most frequently in FY 1996 are summarized in Figure 66. The vast majority of summonses in Manhattan were issued to property owners for failure to post recycling instructions and/or notify residents (R3), improperly placing recyclables out for collection (R9) and mixing non-recyclables with recyclables (R10). Very few (less than 1%) of violations issued in Manhattan were for mixing recyclables in with garbage (R11). This contrasts with city-wide figures for R11 violations, which in FY 1996 were approximately 21% of all violations.
In contrast to the enforcement of residential recycling requirements, there was virtually no DOS enforcement of recycling requirements for city agencies or institutions in FY 1996. Citywide, there were 13 city agency/institutional recycling violations issued. None were issued in Manhattan.
While DOS's enforcement of the city's recycling requirements has been credited with spurring participation, examination of recycling enforcement statistics does not support this claim. Analysis of DOS's recycling enforcement practices in Manhattan indicates that there is no direct relationship between the number of violations issued -- both on a district and per-household basis -- and recycling diversion rates.
Furthermore, analysis of the most frequently issued violations in Manhattan shows there has been little effort to identify nonrecycling individuals residing in the borough's mostly multi-family housing stock. Instead, DOS has frequently cited property owners for a variety of violations concerning the preparation of recyclables for collection. In addition, the data suggest that establishing proper public posting/resident notification in buildings remains a problem. Finally, DOS's enforcement program has completely neglected enforcement of recycling requirements at city agencies and institutions.
Given the above results, it is clear that the city can not depend on the current enforcement program to raise recycling rates or encourage greater compliance. One might argue that the rate of 0.02 violations/household is too low and that the city should broadly increase the number of violations issued. Alternatively, it could be contended that lower recycling districts need to be targeted for increased enforcement.
However, the experience in Manhattan does not support either proposal, as illustrated in the data on Manhattan Community District 10. This district has the highest enforcement rate (0.04 violations/household) and the lowest recycling rate (5%) in the borough. Simply adding enforcement activity would not address the district's principle recycling barriers, the concentration of in rem and/or publicly-owned housing and infrequent recycling pick-ups.
Instead of simply stepping-up enforcement, it is imperative that the city completely reorient DOS's enforcement program -- especially before issuing violations under the new recycling requirements. This is not to suggest that DOS should abandon enforcement, but that enforcement actions must lead to compliance with key recycling rules (e.g., posting, establishment of recycling areas, and separating recyclables for collection) and ultimately in increased diversion and lower levels of contamination.
Recommendations:
·

Provide a baseline level of enforcement in each district that focuses on violations within the control of property owners and residents (e.g., posting requirements, establishment of recycling areas, failure to set out recyclables for collection).

·

Coordinate public education with enforcement by sending outreach staff to visit sites receiving violations.

·

Work with building managers and owners to identify nonrecycling individuals in buildings with repeat R10 and similar violations.

·

Target buildings with recurring R3, R9 and similar violations for additional outreach visits.

·

Establish an enforcement program for public housing, schools and public agencies.

·

Issue and publicize violations at buildings with repeating violations, public schools, city agencies and institutions, and public housing.

·

Establish recycling goals for repeat agency and institutional violators and require compliance reports.

·

Include research on the impact of current enforcement and a review of enforcement practices in other jurisdictions in the forthcoming recycling participation study.

Public education

Currently, the public education and awareness component of DOS's recycling program in Manhattan consists of a mass mailing of brochures, limited local newspaper and billboard advertising, and a single outreach person. These resources have been deployed for the April, 1997 program expansion, but continued or enhanced public education efforts are not planned.

DOS policy does not give priority to ongoing public education and outreach and, moreover, discounts its effects. There are no plans for public education efforts designed to boost overall diversion or even to improve participation in districts with the lowest recycling rates. Consequently, the current DOS program can be seen as one which is designed merely to provide a baseline "due diligence" notification, but not to support greater diversion.

As with many things, interest in recycling can flag and even those who carefully recycled six months ago can forget the rules or lose interest. Ongoing educational programs are a necessity to help remind people of the recycling requirements and the program's importance.

Recommendations:
·

Ensure future program expansion informational materials are received by residents and building managers at least one and two weeks prior to program initiation, respectively. The recent mailing of informational materials in Manhattan arrived weeks after the program kick-off, resulting in confusion that undermines confidence and participation in the program.

·

Commit to an ongoing need for public education for recycling and coordinate such efforts with waste prevention education. Develop media and outreach campaigns that not only disseminate a burst of information, but regularly report the programs successes and issues.

·

Deploy recycling outreach coordinators for each district to promote the program on a grass-roots basis and work with local property owners and interested groups on recycling problems.

·

Establish two pilot waste prevention and recycling shops to disseminate materials, provide supplies, and act as household "swap shops."

·

Establish partnerships with schools, businesses, local civic groups and others with interests in supporting recycling. These partnerships can be used to develop outreach, publicity and public awareness efforts that reach a variety of populations and adapt to specific communities or audiences.

·

Target lower diversion areas for intensive outreach and assistance and provide resources to equip appropriate community-based organizations to conduct local outreach and assistance.

·

Develop and implement, in cooperation with the Board of Education, a school recycling/waste reduction curriculum module and sponsor district recycling contests.

·

Regularly place ads promoting recycling participation in subways and buses.

Dump the free dump

City agencies and public institutions enjoy free DOS collection and dumping services. Yet many of these institutions fail to recycle according to the law. In FY 1997, the city began charging New York City Transit and the Port Authority a disposal fee for the use of DOS's facilities. In response, NYC Transit hired a private waste management firm to sort out recyclables after collection. Even though NYC Transit's recycling method appears violate the city's recycling law, charging the agency shows how that direct economic pressure is an effective means for increasing waste diversion at public agencies/institutions.

Recommendations:
·

Impose fees for the collection and/or disposal of waste by city agencies and institutions receiving city funds by the end of FY 1998, as discussed in the waste prevention section, above. The fee system can be accomplished either by pricing DOS services based on an agency's proportional use of the service or through privatization. Affected agencies should be permitted to share in waste disposal savings as an incentive for reducing per-employee waste generation below the current baseline.

·

Ensure that agencies or institutions switching to private collector services -- such as New York City Transit -- comply with the city's commercial recycling requirements.

New York City Housing Authority and City-owned housing

Huge numbers of properties in Manhattan are owned by the Housing Authority or under control of the Department of Housing Preservation and Development (HPD). Many of these are located in areas with chronic recycling problems. For recycling to succeed in these areas, NYCHA and HPD housing will have to be addressed specially.

Recommendations:
·

Increase convenience of participation at NYCHA sites by establishing drop-off stations closer to buildings.

·

Ensure that each NYCHA development has enough capacity in its recycling collection containers to accommodate all residents' recyclables and prevent overflow.

·

Conduct a pilot "home pick-up" service at one NYCHA development in Manhattan. The service would employ NYCHA student-residents participating in the borough-wide Student Recycling Service as a work-study job. Pay would be split between wages and contributions to a higher education tuition.

·

Provide technical assistance and materials to HPD managers and tenants in alternative management programs.

·

Improve accountability by enforcing recycling rules at city housing.

Schools

Although mandated by the city and the Board of Education to recycle the same range of materials as residences, public schools have a poor track record in implementing programs. This must change in order to divert more material and support educational efforts that promote waste reduction. In addition, since schools receive up to five additional trash collections per week, improved recycling diversion can open opportunities for improving DOS collection efficiencies to these sites.

Recommendations:
·

Establish Student Recycling Service for high school students in conjunction with the Board of Education and other relevant agencies. The Service would function to place students in recycling-related jobs at city agencies and local companies.

·

Provide schools with technical assistance in setting up recycling collection programs.

·

Conduct and publicize enforcement action against nonrecycling schools.

·

Conduct a pilot collection program substituting an additional recycling for a refuse collection. Substitution of services would relieve schools of some storage burdens while also providing an incentive to increase recycling.

Public space recycling opportunities

Public space recycling enhances the city's recycling effort by diverting additional tonnage that might otherwise end up in litter baskets and increasing the visibility of the recycling program.

Recommendations:
·

Encourage provision of recycling receptacles in the city's pending street furniture franchises, especially those incorporated with franchise structures. Design for receptacles should be durable, affordable, and attractive to support a positive recycling message.

·

Institute public space recycling collections at selected city parks and concessions, transportation hubs, and public facilities.

Mixed-waste processing

To further recover recyclables, the city should explore the costs and benefits of various mixed-waste processing technologies for the recovery of recyclables and compostables. A 1991 test of mixed-waste processing for recyclables suggests significant gains could be made, but also recommended more thorough testing over a longer period.

Recommendation:
·

In FY 1998, conduct multi-season tests from two population samples: (1) NYCHA sites for the recovery of recyclables and compostables and (2) compostables from a high-recycling zone (e.g., Manhattan's East Side).

Additional materials

Another option for achieving greater recycling rates in Manhattan is to add materials to the collection program. For example, although not quantified by the city, some estimate that existing textile reuse and recycling operations (e.g., the Salvation Army) now capture only about 9% of discarded clothing and other household textiles in the city. Thus, there are significant quantities -- roughly 120 TPD -- remaining in Manhattan's waste stream still to be recovered.

The material now collected by charitable organizations is ultimately sorted into three categories: clothes kept for resale, reusable clothes sold primarily on the international market, and unusable clothes utilized for fiber or as wiping cloths.

If quality is maintained, existing textile recycling markets would be able to absorb additional textiles. The most important quality factors to maintain are keeping materials dry and unsoiled.

Recommendations:
·

In FY 1997, determine the feasibility of adding textiles to the Manhattan curbside program through bagged, co-collection with papers. Determine the costs of sorting textiles from mixed paper loads at the front end of the Visy paper mill.

·

Based on the above investigation, add textiles to the recycling program either co-collected with papers or through textile drop-off programs in each Community District.

·

Annually assess the marketability of other material types, especially film and other plastics.

Collection productivity

The city must continuously enhance the productivity of its waste and recycling collection services, which impose the largest proportional costs. In Manhattan, collection productivity remains relatively high and will be enhanced by the barging of all collected papers from the 59th Street MTS to the Visy paper mill on Staten Island. Productivity will be diminished if export options require trucking outside the borough.

Recommendation:
·

Prior to adoption of the FY 1998 budget, submit a refuse and recycling collection productivity review. The review should detail methods for analyzing when substitution can add to overall productivity, the conditions necessary for substituting a refuse collection with a recycling collection, and which districts offer feasible substitution opportunities.

RECYCLING ECONOMIC DEVELOPMENT

The city should not be content with collecting recy